Tim Fitzgerald
Bandleader, guitarist and arranger Tim is also the author of the book 625 Alive: the Wes Montgomery BBC Concert Transcribed, which has been hailed as the "Ultimate Study of Wes Montgomery's music" (Just Jazz Guitar Magazine) and "One of the 50 greatest guitar books of all time" (The 50 Greatest Guitar Books).
Tim also leads a quartet and has performed at venues from Chicago's Green Mill to the Luxor in Las Vegas. TV and film musical appearances include PBS's Art Beat, the Sony film "The Myth of Fingerprints" and the animated film "Hoodwinked, Too." The many luminaries he has performed with include Von Freeman, Wycliffe Gordon, Ron Perrillo, and Dennis Charles.
victor garcia
Multiple Grammy nominee Victor Garcia is one of the most respected and in-demand trumpeters and arrangers in Chicago as well as the bandleader of the Chicago Afro-Latin Jazz Ensemble (CALJE).
Victor has performed with countless jazz, salsa and pop luminaries including: Branford Marsalis, Rufus Reid, Hamiett Bluiett, Bill Holman, Jon Faddis, Steve Turre, Roger Ingram, Vincent Gardner, Howard Levy, Nicholas Payton, Victor Goines, Doc Severinsen, Jeff Hamilton, Terrell Stafford, Fred Hersch, Randy Brecker, Randy Weston, Rex Richardson, Charles McPherson, Wycliffe Gordon, Monty Alexander, Rodney Whitaker, Walter White, Joel Frahm, Tito Puente Jr., Michael Stuart, Frankie Negron, Victor Manuelle, Cano Estremera, Marvin Santiago, Tony Vega, Alex D'Castro, Bobby Valentin, Jon Faddis, Luis Bonilla, Jeff Hamilton, Paquito d'Rivera, Bernard Purdie, Aretha Franklin, Sheena Easton, Cory Henry, Four Tops, the Temptations, Billy Branch, Keb' Mo', Otis Clay, Eddy "The Chief" Clearwater.
Chris madsen
In addition to playing tenor saxophone, Juilliard graduate Chris Madsen is also an in-demand clinician, composer, arranger and college professor -- previously at Northwestern University and currently on the full time jazz faculty at the University of Illinois at Chicago. He leads several bands including his quartet and his six piece band, The Kings of the Lobby.
Chris has performed with and written for such jazz masters as Wynton Marsalis, Victor Goines, Loren Schoenberg, Wycliffe Gordon, Kenny Washington, Bobby Short, Michael Dease, Jon Irabagon, Lage Lund, Ulysses Owens Jr., Aaron Diehl, and many others.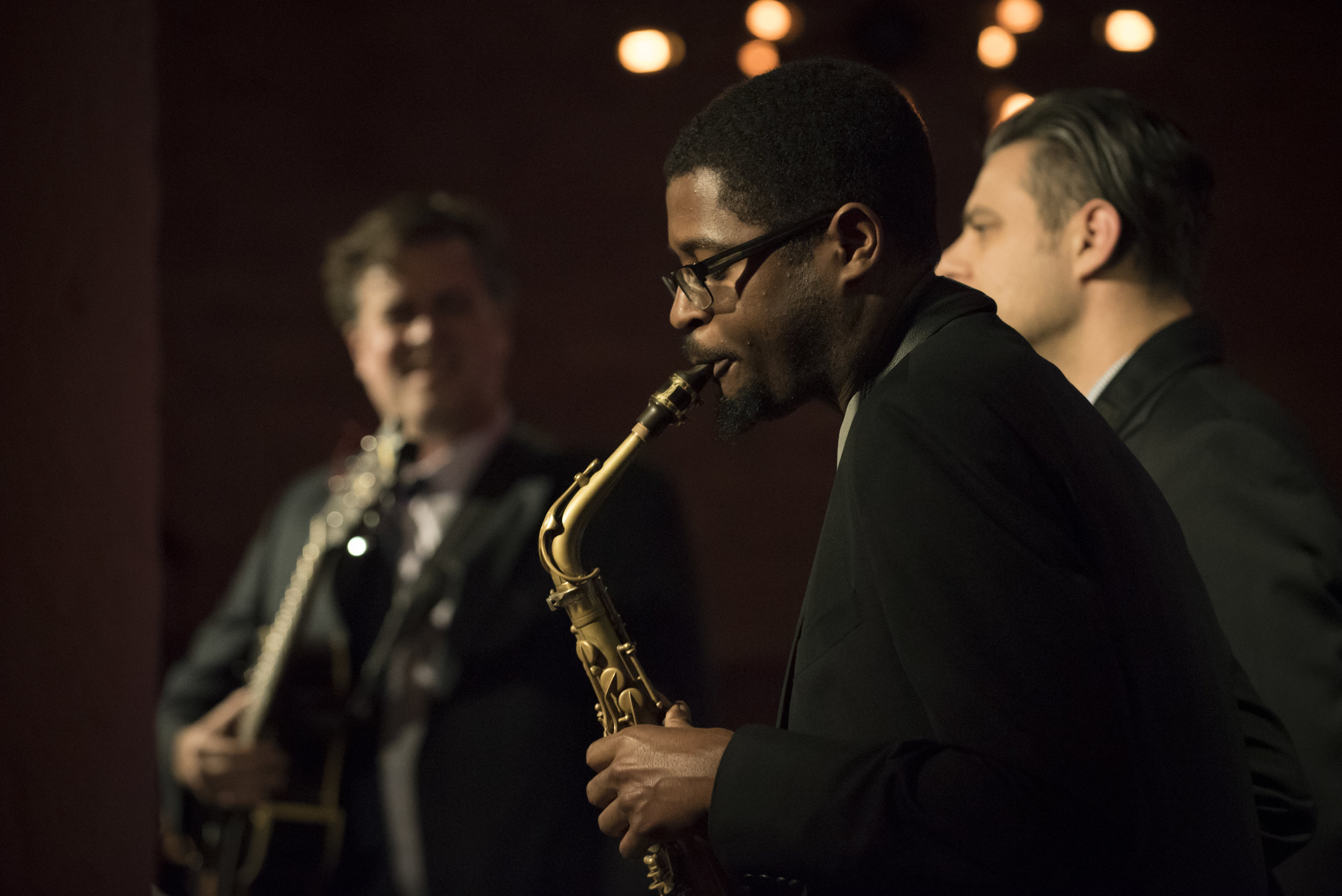 Brent Griffin, Jr
Alto saxophonist Brent Griffin, Jr is the youngest member of Full House and has already traveled the world with music with performances in China, Australia, and Denmark to name a few. A graduate of DePaul university in Chicago, Brent brings a modern sound to every solo while always maintaining a deep connection to the jazz tradition.
He has performed with Phil Woods, Jeff Hamilton, Benny Golson, John Fedchock, Jimmy Heath, Ernest Dawkins, Mary Wilson of the Supremes, and the Four Tops.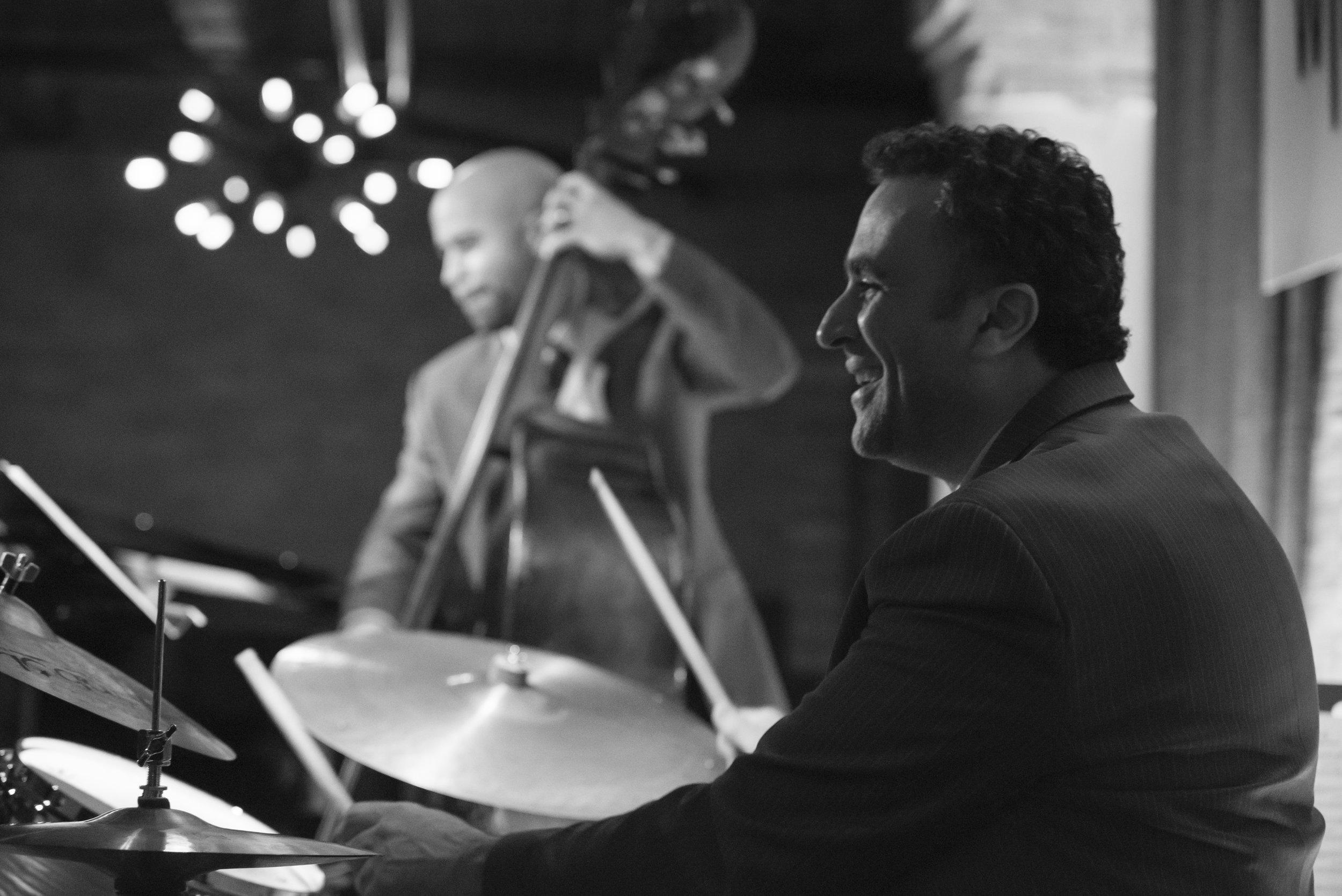 George Fludas
Some press about drummer George Fludas:
"George Fludas has powered bands large and small with a razor sharp technique and relentless rhythmic drive… a swing master." - Howard Reich, Chicago Tribune
"Adept, with a pulse of swinging ease." - Nate Chinen, The New York Times
"George Fludas is one of the greatest drummers ever to come out of Chicago, an impeccable swinger with imagination, class, moxie, and a clear sense of the full span of jazz tradition." - John Corbett, The Chicago Reader
"Fludas brings a combination of focused swing, and sensitivity." -Mark Stryker, Detroit Free Press
George has performed and toured with countless jazz greats, including: Ray Brown, Hank Jones, Monty Alexander, Cedar Walton, Joey Defrancesco, Von Freeman, Jodie Christian, Lin Halliday, Bobby Broom, Ron Blake, Ira Sullivan, Buddy Montgomery, Lou Donaldson, Frank Wess, Kenny Burrell, Betty Carter, Johnny Griffin, Benny Green, Roy Hargrove, Tommy Flanagan, Hank Jones, Cedar Walton, Diana Krall, Benny Carter, Phil Woods, Junior Cook, Slide Hampton, Bobby Hutcherson, and Eric Alexander.
Tom Vaitsas
The Chicago Reader refers to pianist Tom Vaitsas as a "local great" who is "massively resourceful." Tom is one of the most - if not the most - in demand pianists and keyboardists in Chicago, performing every night and most days. He is a frequent collaborator and arranger, being an essential part of many projects, including Full House.
He has performed with an extensive amount of notable musicians, a small sampling including: Von Freeman, Cameron Pfiffner's Marco Polo, Victor Goines, Buddy Guy, Chuck Webb Band, Dee Dee Bridgewater, Hubert Sumlin, Paul Marinaro, Frank D'Rone, Mike Frost Project, The New Standard Quintet, Abigail Riccards, Bobbi Wilsyn, Tammny McCann, Duke Payne, Dave Williams Trio, Jimmy Owens, Willie Kent, Pinetop Perkins, Red Holt and toured Europe multiple times the great blues artists Carrie and Lurie Bell. Tom also plays extensively in Chicago's Greek music scene.
Christian dillingham
In addition to his jazz work, Christian is also an accomplished classical bassist, performing with Civic Orchestra of Chicago, the Grant Park Symphony, Fulcrum Point, Chicago Sinfonietta, the Chicago Philharmonic, and the Chicago Opera Theatre.
The Ohio native has performed with many notable musicians and groups including Fred Anderson, Greg Ward, Melvin Butler, Kevin Mahogany, Venessa Rubin, Willie Pickens, Dee Alexander, Victor Goines, Bobby Broom, Sean Jones, Kimberly Gordon, Robert Irving III, Mike Reed, Jim Baker, Quentin Coaxum, Hard Art Groop, and Jim Gailloreto.